Comments Off

on Best Weight Loss Tea – Garlic Tea
Best Weight Loss Tea – Garlic Tea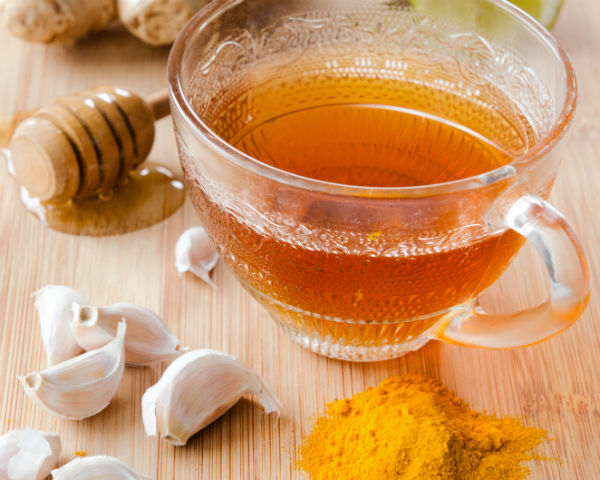 Weight Loss is one of the common problems faced by most of the people. There are several ways to lose weight however weight loss tea serves to be one of the wonderful ways to get rid of that excess fat.
Herbs such as Ginger and Garlic serve to be miraculous in losing weight. But yes don't expect it to happen overnight. Apart from green tea consumption, it is advisable to have a diet that is low in calories and doing regular exercises.
Research shows that ginger and garlic supports weight loss but yet it is advisable to consult your doctor before taking heavy dose of the same.
Let's see how Garlic Tea can help in burning fat:
In 2011, Journal of Nutrition conducted a research on mice to detect the effect of garlic. The mice were given a diet rich in fat so that they can become obese. Then, they were given a garlic supplement for few weeks.
After few weeks, they found sufficient weight loss in them further there body temperatures were also high. This shows that garlic has high fat burning factor which is useful in weight loss. Hence, Garlic Tea is a perfect supplement for weight loss.
Garlic Tea consumed along with regular exercise can reduce weight to an extent. Apart from Garlic, Ginger is also an herb useful in overcoming obesity. Having ginger can make you feel fuller thus reducing your temptations to eat more and more.
Ginger tends to have a good effect in energy expenditure. This was proved by performing an experiment on few people. Some were given a hot ginger beverage whereas few were given placebo with breakfast.
People consuming ginger beverage tend to feel less hungry. This shows that ginger can help to reduce calorie intake and this result in reducing weight loss to an extent.
Garlic & Ginger Tea:
Drinking Garlic & Ginger tea can help to reduce weight hence it is advisable to consume at least two cups of tea in a day. More than two cups can be considered harmful for those having heart issues as too much intake can worsen heart conditions.
Garlic & Ginger increase bleeding and reduce blood sugar. This can affect those having diabetes. Garlic can also cause gastrointestinal issues. So, if you are suffering from any of the heart ailments or blood pressure, sugar problems then consult with your doctor before consuming garlic or ginger tea for weight loss.
For such people, there are many other herbal teas available that can help to reduce weight. Body bites will help you to choose the best from its wide range of herbal teas.
Weight Loss is nothing but reduction in calories so one must consume only those teas that can actually reduce calories and also reduce temptations to eat more. This means one must consume teas that make them feel fuller every time without having the urge to eat more.
Conclusion: There are many ways to lose weight but very few people are able to adopt such ways. Drinking weight loss teas is one of the best ways to get rid of that extra fat around your tummy.
Body Bites in Australia is one stop destination for those willing to purchase various types weight loss teas. Book your order now before the excess fat starts creating a negative body image.